Lawn Stripes And Hedges had a busy weekend helping East Cheshire Hospice with their yearly Christmas Tree collection.
The East Cheshire Hospice Christmas Tree collection Charity is a local charity where people pay a donation to get their tree recycled, this year alone they raised over £150,000 for the charity collecting over 7,000 trees in total.
Including ourselves at Lawn Stripes And Hedges more than 300 volunteers helped the charity over the weekend of the 15th January making it a huge success.
This annual collection has raised more than £1 million since it was started by just two 
Volunteers back in 2001.
The hospice in Macclesfield, serves areas including Congleton, Knutsford and High Legh, about 40 vans were used to collect the trees, which are then converted into mulch for burners and other uses.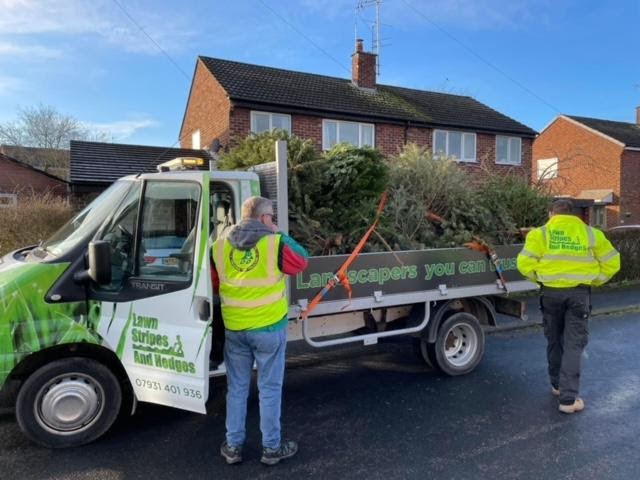 How did it start?
In 1999 Prestbury Church was trying to raise money to replace the failing organ used to accompany the activities of its two choirs. Mike Thompson, a member of the Men and Boys Choir, and his wife Lis suggested that £10 be given to each choir member to be returned hopefully with interest (as with The Parable of the Talents).
Nobody realised how the Chapman family's £10 idea of collecting and disposing of dead Christmas Trees would grow. With their trailer they organised a collection in the Prestbury area and divided the donations received equally between a Children's Charity and the Organ fund. It was a great success and the following year several friends and neighbours asked if they were going to do it again. So, the Collection was born and started to grow.
In 2016 they were honoured to receive the prestigious Queen's Award for Voluntary Service, the MBE for volunteer groups. They have also been a finalist in the National Recycling Awards on two separate occasions.
How amazing is that!!
If you wish to read more or find out how to volunteer next year please click on https://www.eastcheshirehospice.org.uk/echtrees/