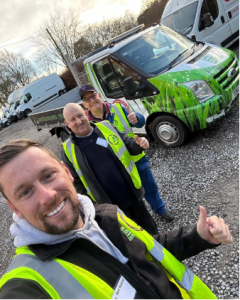 On the 14th and 15th of January, Lawn Stripes And Hedges Ltd had the pleasure for the second year running to take part in the Christmas tree collection which is organised by East Cheshire Hospice.
Wind and rain did not stop volunteers who turned the East Cheshire Hospice tree collection into another major triumph.
Over the weekend more than 6,000 trees were collected, and it is believed to be the largest scheme of its kind in the WORLD (impressive right)
Around £150,000 was raised as more than 250 volunteers staged a military-style operation to collect Christmas trees in a fleet of vans.
Richard Raymond, co-founder of the scheme, said: "What another amazing effort! Every year we are so lucky to get such an incredible response to our appeal from the public.
"This year has been particularly hard due to the cost-of-living crisis, yet we still managed to raise as much as we have done in the last few years.
East Cheshire Hospice have a long list of sponsors as well, led by AstraZenaca, who have loyally stick by them which they are grateful for.
The scheme alone has raised a staggering £1.65m in 23 years.
A mulching machine operated by CRJ Recycling, from Allostock, turned trees into compost, complying with the Hospice's on-going eco initiatives.
Volunteer Pete Chapman reached a special milestone with the latest tree collection.
It marked 25 years since Pete and wife Heather first picked up a discarded Christmas tree, starting an incredible fundraising journey.
Their dedication was recognised with a presentation by Hospice Chief Executive Karyn Johnston after the latest collection.
Pete's family began collecting trees for charity in 1999. Two years later they decided to donate funds to East Cheshire Hospice, a kind gesture which led to a relationship still going strong today.
The initial idea came when Heather suggested collecting trees to help buy a new organ at Prestbury Church where son Andy, then 15, sang in the choir.
Each chorister was given £10 as an incentive. The family trailer was used to pick up trees and the couple realised the fundraising potential.
Pete said: "We used the £10 note to pay for petrol to collect trees from the neighbours and raised £600 for two charities. Everyone said it was a brilliant idea and asked if we'd do it again.
"We've been amazed by the scheme's success over the years. It's been beyond our wildest dreams and has inspired dozens of similar collections around the country.
If you wish to donate, please do so by clicking on the link below:
https://www.eastcheshirehospice.org.uk/support/donate-money/make-a-single-donation/